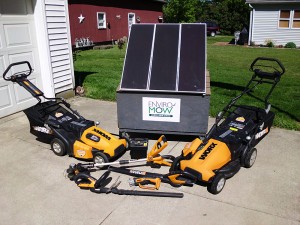 It was during the financial meltdown, gas prices were soaring, and good paying summer jobs were hard to find. I mentioned to a friend that if I were a high school graduate or college student I would buy a reel type mower and find neighborhood lawns to mow. Since there would be no gas or oil expense, I would call it Enviro-mow!
After a few chuckles at my expense, the response was "That is a not a bad idea." And so the research and planning began.
In August of 2009 we officially became ENVIRO-MOW, LLC.
We use battery powered mowers and re-charge them using solar energy. We continue to research new technologies in solar energy and rechargeable battery storage in order to remain on "the cutting edge".
Our motto is: "The sun makes your grass grow; we use the sun to ENVIRO-MOW."